Road Safety APP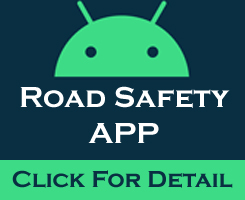 Online Test
Poll
Important
If you are running an Organization, NGO, Company, Driving School or doing any individual effort and work regarding with Road Safety then please Contact Us and become member of community working for road safety. We love to publish and promote your effort.
Thank You
Tell a Friend
Your Suggestion
If you like our website please write your feedback and testinimonials.
Road Sign PK
Our Aim and Mission
There are dozens of Organizations, NGO, Companies, Driving Schools and Individuals who are working individually in Pakistan to ensure the human safety from road accidents. They are all doing wonderful work and great job by generating awareness but no one know their work which is very useful for everyone. The reason is lack of communication and lack of platform where they can present and share it.

•Our mission to bring all entities at one place and provide them a platform where all can present and publish their work, reports, survey, publications and researches for the readers and make it possible to get benefits from each other.
•Reduce communication gap among them and make it possible to get support from each others.
•Accumulate individual's efforts at one place.
•Provide awareness about road signs and road safety cautions.
•Provide technical support to entities in developing and managing/updating their own websites and Social Media Pages including Facebook, twitter, Google+ etc.
•Make famous your work on social media which is helpful for readers.


Our Vision
Road Sign PK is a community of people having vision of saving human's life from road accidents. If you think human life is more important than its cast, color, race and religion then please join hand together for this cause. By joining you are making promise that you will obey the traffic laws and will not do anything which may be harmful for other on road.
About Us
Road Sign PK founded in 2011, by a team of experts including web developers, database managers, Information Security experts and social media experts who can manage and handle a large amount of data from all entities around the country (Pakistan) and give them technical support if they need to develop and manage/update their own website and social media pages as well as to provide awareness about road signs and road safety cautions.
Together we are road safety. Let's make accident free roads. Thank You
Important
If you are running an Organization, NGO, Company, Driving School or doing any individual effort and work regarding with Road Safety then please contact us and become member of community working for road safety. We love to publish and promote your effort. Thank you.
Main Menu
Popular