Road Safety APP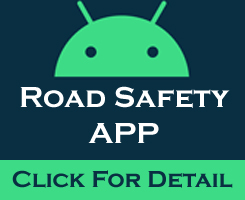 Online Test
Poll
Important
If you are running an Organization, NGO, Company, Driving School or doing any individual effort and work regarding with Road Safety then please Contact Us and become member of community working for road safety. We love to publish and promote your effort.
Thank You
Tell a Friend
Your Suggestion
If you like our website please write your feedback and testinimonials.
Compulsory roundabout
On approaching a roundabout, reduce your speed and decide as early as possible which lane you need to take. Watch out for traffic already on the roundabout and Give way to traffic coming from your right side. Watch out especially for pedestrians, cyclists and motor-cyclists.
Comments
Place all Roundabout Signs one after another to diffrentiat one from other, if deemed appropriate.
Karamat Ali Sipra, Islamabad, December 30, 2014
Jami, Islamabad, February 08, 2014
ans, Lahore, January 31, 2014
Main Menu
Popular