Road Safety APP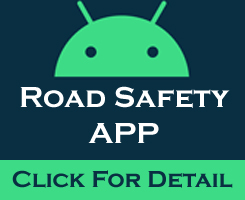 Online Test
Poll
Important
If you are running an Organization, NGO, Company, Driving School or doing any individual effort and work regarding with Road Safety then please Contact Us and become member of community working for road safety. We love to publish and promote your effort.
Thank You
Tell a Friend
Your Suggestion
If you like our website please write your feedback and testinimonials.
Flammable liquid
Comments
Dear(@Muhammad Azeem Kakar) You may saw these type of sign at the back-side of truck or on Filling Station - Petrol pump or in some chemical factory, purpose you may keep distance from them and be careful.
Admin, Islamabad., January 15, 2015
what is the purpose of using this "Inflammable Liquid " sign.where it is used for?
Muhammad Azeem Kakar, Quetta, Baluchistan., January 05, 2015
Main Menu
Popular