Road Safety APP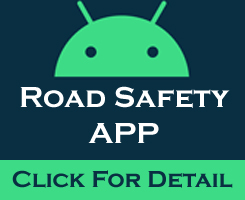 Online Test
Poll
Important
If you are running an Organization, NGO, Company, Driving School or doing any individual effort and work regarding with Road Safety then please Contact Us and become member of community working for road safety. We love to publish and promote your effort.
Thank You
Tell a Friend
Your Suggestion
If you like our website please write your feedback and testinimonials.
Road closed
Comments
I am preparing for driving test. Found this site while searching for assistance from net.I found this site extremely help full.I appreciate the efforts made. It is 1st day I found this site and expect that I will gain very well knowledge.
Muhammad Arshad, Wah / Pakistan, March 24, 2016
Www.roadssign.com.pk is very informative web link address for learner and driving license . many many thanks for regardless effort.all information is useful For me & us
Muhammad amir mehmood, Lahore,Punjab,pakistan, March 30, 2015
It is very informative for road users.
Altaf Ahmed Piracha, Multan - Pakistan, February 28, 2015
this is a very good cite he helps me for road informations and i pass my test very sucessfully thank you verry much
sharyar khan, Pakistan, December 01, 2014
Good and very informative website. Well maintained. Thanks for sharing information to general public.
Saeed Pasha, Islamabad - Pakistan, November 27, 2014
When I appeared for the road sign touch screen test first time I were told that ITP has hosted a website for this cause, only then I visited the site, it is something blessing in disguise for novice driver and learners Good Job and it must be advertise throughout the pakistan.
Muhammad Javed, Pakistan, May 29, 2014
That is very usefull for ppl like me,, new in driving... i must create a hard copy to keep it in my car.
Usman zia, Mansehra, May 21, 2014
This site is very informative for both drivers and non drivers.it creats awareness among all citizens of Pakistan .in short this site is playing the role of traffic police and prevents us from becoming a rash driver and provides us an opportunity to become law abiding citizens of Pakistan.
Sidra Arif, jhelum, April 11, 2014
This Website is best for all Pakistani Citizen and we should Implement for our safety.......and I, appreciate this effort.
M.Usman Ikram, Lahore, March 19, 2014
Excellent work, i appreciate this effort, and suggest that this website should be update with the help of ITP, and more upgrade with new laws and informations. Please this site should be advertise and market on roads. Thank you.
Kamran Ali, Islamabad, January 08, 2014
i thought there is no such ethics in us, as being Pakistanis and I also started believing it. this websit is enough to disprove that Pakistanis don't believe in ethics. great effort dear
Dr. Faizan Ali, Islamabad, September 11, 2013
nice and informative post
azeem, multan, August 03, 2013
Zahid Abas, RWP, June 11, 2012
Zahid, Islamabad, 28-03-2012
Main Menu
Popular